I'm so excited to start this link-up series with you ladies. I really just want to say thank you to each one of you that takes the time to read this little blog of mine. You make my heart happy! God knew what He was doing when He brought each one of you into my life. I might not always have the time to respond to each comment, but they really do start my day off on a great note, so thank you!
This weekend was really busy, but so fun. I hosted a baby shower for my friend, Heidi, and it was so much fun to watch her open every gift and just glow in the limelight. Her little miracle baby will be here in April and we can not wait to meet little Gage! I have to brag about my husband for a little bit here because he helped me clean the house, did ALL the decorations, and gave me a foot massage after it was all over :)

Finally, I'm so excited to share this special video with you. I've waited to share it until today. I've seen God's hand in the

highs

and lows-- the "winter" and "spring"-- seasons of my life. Even when things were hard and I questioned where He went, He was there. And now, in this new, exciting season of my life, I have physical evidence of his faithfullness and grace in my life everytime I look at my growing, almost 16-week baby belly. What a beautiful reminder.

"Your love, O LORD, reaches to the heavens, your faithfulness to the skies.
" - Psalm 36:5


(Baby's heartbeat seems fast, right?!! GIIRRRRLLLL?!)
Cup Half Full Link Up Party
The goal of this link up party is to have a place where women can come each week and simply link back to posts where they find beauty in their life.

This is not a subject-specific link up party, but simply an overall theme of contented, thankful way of living. I don't really care what you want to link up, as long as it promotes a general positive, thankful, my-cup-is-half-full vibe.
Link up to your specific blog post, not to your blog's main page.

Make this an interactive link up party by trying to visit a few other blogs while you're here and stop and show them some love-- because everyone loves comments! :)

Grab a button or link back to this post so that your blog readers can come and join in on the fun, too!

Thank you for stopping by!!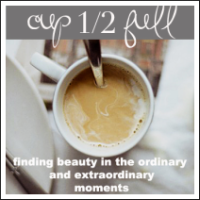 <a href="http://findingbeautyintheordinary.com" target="_blank"><img src="http://i1089.photobucket.com/albums/i349/FindingBeauty19/Buttons_%20Heather/Cup12Full.png" alt="FindingBeautyintheOrdinary.com" width="125" height="125" /></a>