We've finally arrived.
Closing time on our new home, today at 1 PM.
We didn't close in time on Friday

like we had hoped, but that's okay.
I can't thank you all enough for your prayers!
Even though things didn't happen the way we wanted them to,
we felt a peace about things and were really able to relax.
Joshua got some much needed rest after 10 straight days of work and we enjoyed just spending time together.

A date night to see "The Hunger Games" and grab a late night bite to eat.
(I asked Joshua if he liked it, and his answer: "It sure beats a movie about vampires that sparkle." Bwahahaha!)
A random trip to Home Depot to decide on paint colors.
A sweet night with friends in our living room, holding their 4 week old.
Two, glorious 4 hour (yes, 4 hour!) naps on Saturday and Sunday.
A beautiful message at church and worship that gave me chills.
And a miraculous recovery of a family friend's 2 year old who got bit by a rattlesnake while hiking and who is going to 100% recover.

If you know our story, and everything we've been through over the past couple of years,
you know that this arrival has been a long time coming.
God is so good and faithful.
I remember moments when Joshua and I were living with my in-laws and we wondered when life would ever
"get moving." When would we finally get to be living out our dreams?
It's happening, and it's scary because a part of me got so used to crap after crap
happening that I subconciously don't know how to handle all of this.
At church yesterday, we just held hands and kind of just looked at one another
in awe. God is good, and not only answers our call, but He makes all
things beautiful in
His
perfect time (Eccl 3:11).
3 things I asked God when we started house hunting:
1.) Close in proximity to the lake where I love to walk Hartley.
2.) A front door, not a side door. A lot of houses in AZ have doors on the side, and I'm not a fan.
3.) A backyard with no neighbors behind it (really hard to find in a track-home community).

All 3 things came true.
Cup Half Full LinkUp Party
The goal of this link up party is to have a place where women can come each week and simply link back to posts where they find beauty in their life.
This is not a subject-specific link up party, but simply an overall theme of contented, thankful way of living. I don't really care what you want to link up, as long as it promotes a general positive, thankful, my-cup-is-half-full vibe.
Link up to your specific blog post, not to your blog's main page.

Make this an interactive link up party by trying to visit a few other blogs while you're here and stop and show them some love-- because everyone loves comments! :)

Grab a button or link back to this post so that your blog readers can come and join in on the fun, too!

Thank you for stopping by!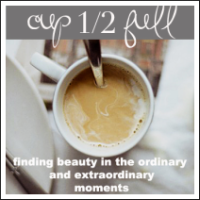 <a href="http://findingbeautyintheordinary.com" target="_blank"><img src="http://i1089.photobucket.com/albums/i349/FindingBeauty19
/Buttons_%20Heather/Cup12Full.png"
alt="FindingBeautyintheOrdinary.com" width="125"
height="125" /></a>