Thank you, Mom, Dad, little bro, mother/father/sister/brother-in-law, nephews and sweet childhood friends for such a wonderful 4-day weekend in San Diego. We miss you so much already and are so blessed to call you family, and friends.

Please forgive the tardiness of the linkup party today. We just got back in to AZ last night at 1:30 AM and are wippppeedddd. Too much fun this weekend. More pictures to come. Adios!

P.S. Happy 21st birthday, Todd, little cousin/family-friend-for-life! Watching you graduate from the Marine Corps bootcamp this weekend was a true honor-- we are so proud of you. Have a beer for this preggo! xo

P.P.S. We came home with my Joshua's childhood vintage crib, highchair, and baby rocker. I am so excited to paint and prep them for baby girl's nursery-- so special!
Cup Half Full LinkUp Party
The goal of this link up party is to have a place where women can come each week and simply link back to posts where they find beauty in their life.
This is not a subject-specific link up party, but simply an overall theme of contented, thankful way of living. I don't really care what you want to link up, as long as it promotes a general positive, thankful, my-cup-is-half-full vibe.
Link up to your specific blog post, not to your blog's main page.

Make this an interactive link up party by trying to visit a few other blogs while you're here and stop and show them some love-- because everyone loves comments! :)

Grab a button or link back to this post so that your blog readers can come and join in on the fun, too!

Thank you for stopping by!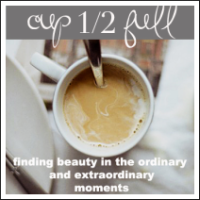 <a href="http://findingbeautyintheordinary.com" target="_blank"><img src="http://i1089.photobucket.com/albums/i349/FindingBeauty19
/Buttons_%20Heather/Cup12Full.png"
alt="FindingBeautyintheOrdinary.com" width="125"
height="125" /></a>