Hi guys!
How was your weekend?!

I spent mine just trying to catch up on sleep from our trip home, Joshua's new shift change at work, and getting ready for our big move! We are supposed to close early this upcoming week and get the keys soon after. We'll have some work (paint, flooring, carpet) to do before we're fully moved in, but it's right up our alley.... we wanted something we could fix up a bit (but not a lot) and are obsessed with HGTV shows that are getting us excited for this process. The house is only 6 years old so it's not really too much work. We feel really blessed to have found the house we did and for the price we did, all in a great time frame with our current rental's lease expiring (and a baby on the way)! Did I tell you guys that the ONLY room in the whole house that is painted is the room that we were planning on using for our baby's nursery? And, ironically enough, it's painted purple?! Not that we are keeping the purple, but I mean, how weird is it that we are having a girl? I loved it! It was definitely a sign ;)

I also went to a girl's night out on Friday night and 12 of us all played Bunco for the first time-- it was so much fun! It's going to become a monthly thing that we do and I'm really looking forward to it. I also got to see my girlfriend's new baby for the first time and spend some time with her and her new little man. Every time I hold a baby, our little girl starts kicking me! I love it! Joshua and I also had a few coffee dates (well, coffee for him, hot chocolate for me), we went to a huge community garage sale (scored an awesome vintage chair for the nursery for a steal of a price!) and really enjoyed Sunday morning at church. I love how we're finally starting to get plugged into a community and church here. Our church meets on the high school campus that's located in our new neighborhood and I love that we'll be able to ride our bikes to church as a family in the coming years :)

I'm also so thankful that we were able to go home for a 4-day weekend last week. I was really homesick for a few weeks leading up to our trip and I was glad that Joshua was able to merge his weekends at work and come with me! One of my best friend's little brother (who's like my cousin, we've been family friends for 20+ years) graduated from the Marine Corps bootcamp and it was amazing to watch him graduate. We had a wonderful time with our families and are already looking forward to our next trip back for our baby shower in June!

Life is really good right now, just really busy and super exciting. They say that you really appreciate the sunshine after the cloudy times and that is true. God has been so good and faithful to us over the years. It's awesome to finally be in a good spot.

---------------------

Cup Half Full LinkUp Party
The goal of this link up party is to have a place where women can come each week and simply link back to posts where they find beauty in their life.
This is not a subject-specific link up party, but simply an overall theme of contented, thankful way of living. I don't really care what you want to link up, as long as it promotes a general positive, thankful, my-cup-is-half-full vibe.
Link up to your specific blog post, not to your blog's main page.

Make this an interactive link up party by trying to visit a few other blogs while you're here and stop and show them some love-- because everyone loves comments! :)

Grab a button or link back to this post so that your blog readers can come and join in on the fun, too!

Thank you for stopping by!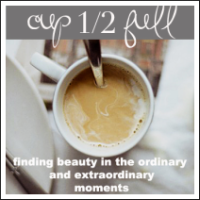 <a href="http://findingbeautyintheordinary.com" target="_blank"><img src="http://i1089.photobucket.com/albums/i349/FindingBeauty19
/Buttons_%20Heather/Cup12Full.png"
alt="FindingBeautyintheOrdinary.com" width="125"
height="125" /></a>