Please forgive me for the lack of posts lately. In between painting, unpacking, enjoying our new

(pretty darn awesome, I must add!)

neighborhood, adjusting to hubby's work schedule, trying to move/unpack while 7 month preggo, blah blah blah-- I've been just a tad burnt out and and yet energized all at the same time. That really doesn't make sense, but whatever... you get my drift... A part of me has nothing to say, and yet so much to say. Perhaps I have writer's block? Perhaps I'm just tired? I don't know. I find that being pregnant has somehow fueled my creative juices to paint, craft, create and write-- but when it comes to actually doing it, that's where I find myself completely unenergized and at a loss for words.

Pregnancy has already taught me so much about life, about human mankind (thank you to the kind ladies at Starbucks that always gawk over my belly and tell me how little I am when I'm feeling the size of a whale) and about life in general. I've learned so much I could probably write a whole book on the topic by now. I was recently asked to do a little interview for another blog last week and one of the questions that was asked of me was

"What is one thing that has surprised you about pregnancy?"

My first response and thought was immediately heartburn! Holy cow, heartburn? Why did no one really tell me about this. Well, actually my friend Heidi did, thank you Heidi. But I really didn't hear much about it and I guess I figured it wouldn't happen to me... surprise. It comes on like a tidal wave, sweeps over me, and doesn't leave until I've engorged myself in a generous helping of peppermint Tums. Rumor has it that heartburn = a baby with a lot of hair and that's fine by me (if it's even true) because this little lady has quite the adorable stash already of hair clips, bows and headbands thanks to friends like Ruthie

,

Casey and Illene, just to name a few.

If I was completely honest with the before mentioned question, another thing I should probably add to the list is that I had no idea I would be so hot-tempered during pregnancy. We all know that pregnancy brings on hormones, and since I'm carrying a girl, I'm sure I'm given an extra helping of those since I get hers too?! ;)

Just keeping it real here... I recently read THIS post about transparency that struck a chord with me and I always want to be real here on this blog.

One of the things that has been really hard lately is truly being genuinely happy for those that are difficult to love/I feel like don't deserve it.

Like I said, just keeping it real here.

Over the years, Joshua and I dealt with so much crap. He lost his job, we moved in with my in-laws, we dealt with a job hiring process that took over 2 years, and a butt-load of stuff in between. During those times, we watched friends succeed in life and it was hard for us. Friends bought houses, friends had babies and friends got promotions and seemed to be having it all. We had nothing. But you know what? We tried to be happy for them and God really, supernaturally, I swear-- gave us so much grace and fueled us with happiness for them. Even though it was hard for us. We knew, in the back burners of our minds, that we would get there one day, too. Joshua would always tell me, "Heather, one day I'm going to buy you a house, I want you to be a stay-at-home mom, we're going to get a puppy, and you're going to get a new car."

It was hard to believe, but it's happened.
God has been so good, and so faithful.

But since it's now our turn, it often times stings that sometimes we can barely get a congrats or a hello or a "we're so happy for you" from some people. You, only naturally, have expectations that those people would care, right? It stings that old friends follow me on Instagram, Twitter, or Facebook and can't even say congrats about our baby or when we found out she was a girl, or heck, even "like" a comment or picture. It doesn't take a lot. I know they're using social media-- they're just infamous "lurkers."

It's hard for me to be happy for people who are now pregnant and who couldn't be happy for me. Who I know, unfortunately, were seething with jealously and bitterness when I found out I was pregnant. It takes every ounce of energy in me to be a good friend and rise about how I "feel." It's the right thing to do, and I do it, but it's hard to congratulate them or wish them happiness when they couldn't do it for me (or did it to my face and yet I know first hand that they were talking bitterly about me behind my back).

I'm sorry for the dump here, but these are just thoughts running through my mind. I go back and forth between sharing too much and sharing too little, but the bottom line is that this is my blog and it's a journal of sorts. I'm just super duper blessed with people that actually care to read about my thoughts and feelings and I'm so thankful for that.

The point in writing this all,

is that I just want to say that my life really isn't about me and about how I feel about anything.

If I chose to sit around and focus on what people are or are not doing I would go crazy.
I wanted to share about what God's been doing in my life and yet how He's trying to shape, mold, and grow me.
This is because the last 4 Sunday's at church have been all about thriving and it's hit me hard.
It's taught me to find beauty in these, yes, even annoying life incidences.

At church, we've been going through a series called "Thrive" and it's been absolutely amazing! One of the questions directed at us yesterday was, "Are you helping others to thrive or merely to survive?" I thought a lot about it and I don't want to be help back by anger or bitterness and not help others thrive because I feel like they haven't been there for me when I thought they should. I need to rise about myself and do it because



loving others is what Jesus has called me to do, whether I feel like it or not, or whether I feel they are deserving of it

.



Matthew 22:37-40
Love God, love people.

Romans 12:9-21
"Be happy with those who are happy."
Never take revenge. Leave that to the righteous anger of God.

How do we help others thrive?
Speak the truth in love (Eph 4:15)
Put others first (Phil 2:3-4)
Look for the best in others (Luke 7:39, Luke 7:47)
Empty YOUR cup (1 Tim 1:1-2)

Thanks for letting me share my thoughts and feelings with you all today.
Praying that God continues to fill me with grace and love for others.
Do you find this hard to do, too?
I'd love to hear your thoughts! xo

Some pictures from our weekend, where I found beauty...

hartley's first visit to his new neighbhorhood dog park
27 weeks on a morning walk
hartley in the morning sunshine on a trail behind our house
a super sweet gift from my favorite austin, texas, friend-- ruthie hart
cinco de mayo celebration on our porch + lemonade in margarita glasses
a fun night out with girlfriends at manuel's
super moon
more mexican food after church yesterday
a gorgeous maple desk i found at a thrift store for $30!-- perfect for my blogging room/office...
(suggestions for paint color were mint green, white, yellow or coral!)
starting to prep baby girl's nursery now that she has a closet :)

-------------
Cup Half Full LinkUp Party
The goal of this link up party is to have a place where women can come each week and simply link back to posts where they find beauty in their life.
This is not a subject-specific link up party, but simply an overall theme of contented, thankful way of living. I don't really care what you want to link up, as long as it promotes a general positive, thankful, my-cup-is-half-full vibe.
Link up to your specific blog post, not to your blog's main page.

Make this an interactive link up party by trying to visit a few other blogs while you're here and stop and show them some love-- because everyone loves comments! :)

Grab a button or link back to this post so that your blog readers can come and join in on the fun, too!

Thank you for stopping by!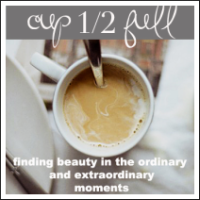 <a href="http://findingbeautyintheordinary.com" target="_blank"><img src="http://i1089.photobucket.com/albums/i349/FindingBeauty19
/Buttons_%20Heather/Cup12Full.png"
alt="FindingBeautyintheOrdinary.com" width="125"
height="125" /></a>