My baby shower was this weekend and I will just tell you right now that it was ah-maz-zzzing.
Well, you can see it for yourself.
I know.... that ombre` cake!
I'm still a little overwhelmed by it all.

My mom and my mother-in-law flew in and their presence, combined with the presence of my friends,
made my heart happy. And the clear skies parted and brought forth huge,
billowy storm clouds that filled with rain and eventual downpour.
I had a literal "shower" on my baby shower day, and it was beautiful.
We even were surprised with a double-rainbow, a sign of God's faithfullness, times two.

A huge thank you to my wonderful friend Crystal (who was unfortunately not able to be there as she had to fly out of state to be there for her nephew's birth at the last minute) who created most of the decor for my special day,
as well as my friends Sarah & Heidi for hosting, decorating and putting this all together.

My mom is in town for a few more days, and then we have our 34 week doctor's appointment and head out to San Diego for our hometown baby shower. This little lady is pretty darn loved.

//

How are you finding beauty in your life?
Share with us how you are choosing to focus on your cup being"half full" today!

//

Cup Half Full LinkUp Party
The goal of this link up party is to have a place where women can come each week and simply link back to posts where they find beauty in their life. This is
not
a subject-specific link up party, but simply an overall theme of contented, thankful way of living. I don't really care what you want to link up, as long as it promotes a general positive, thankful, my-cup-is-half-full vibe.
Link up to your specific blog post, not to your blog's main page.

Make this an interactive link up party by trying to visit a few other blogs while you're here and stop and show them some love-- because everyone loves comments! :)

Grab a button or link back to this post so that your blog readers can come and join in on the fun, too!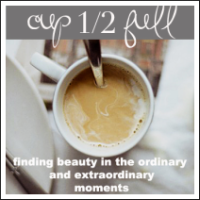 <a href="http://findingbeautyintheordinary.com" target="_blank"><img src="http://i1089.photobucket.com/albums/i349/FindingBeauty19
/Buttons_%20Heather/Cup12Full.png"
alt="FindingBeautyintheOrdinary.com" width="125"
height="125" /></a>