joshua found all those boxes in our attic, leftover from previous owners
painting. going on 4 weeks of it, on and off. we are over it :)
new lampshade from target
joshua's sympathy pregnancy craving: waffles
our new washer/dryer, thanks to craigslist!
hartley cuddles with my tummy
shaved ice stand in the neighborhood
saturday morning baby belly holding
baby girl's rocker came from amazon
an afternoon at barnes & noble
finished painting the downstairs bathroom
official last day of being able to wear a skirt before it gets too short...
my boys
jam at the farmer's market
cream sodas
//
joshua actually had a weekend off. shut the front door.
this hasn't happened for, well, maybe a year?
i'm so thankful for his job, but sometimes a normal routine would be nice.
if you know anything about us, we operate on a very non-conventional schedule.
it can make life very interesting :)

so, we soaked up the time off by going on a lot of walks, enjoyed an afternoon downtown, found the cutest shop that sold cream sodas (which we needed because it was 100 degrees yesterday), hung out at barnes & noble, did some laundry, went to a really fun BBQ with friends, enjoyed a wonderful church service, took a nap, watched a few movies, did some house work, and yelled at the puppy to stop eating our popcorn.
our baby girl is at a point in my belly where we can actually feel her little feet and butt from the outside and her kicks are becoming full on jolts and stabs. i can feel her hiccups now.
after 25 minutes of poking and prodding to get her to wake up, we finally saw her face for the first time
on thursday via 3/4D. it was amazing. i can't wait to share pics.
this is a really beautiful time in our lives and i kind of just want to freeze time for a bit.
//
Cup Half Full LinkUp Party
The goal of this link up party is to have a place where women can come each week and simply link back to posts where they find beauty in their life. This is
not
a subject-specific link up party, but simply an overall theme of contented, thankful way of living. I don't really care what you want to link up, as long as it promotes a general positive, thankful, my-cup-is-half-full vibe.
Link up to your specific blog post, not to your blog's main page.

Make this an interactive link up party by trying to visit a few other blogs while you're here and stop and show them some love-- because everyone loves comments! :)

Grab a button or link back to this post so that your blog readers can come and join in on the fun, too!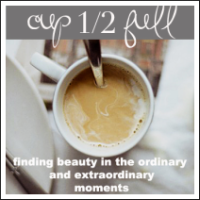 <a href="http://findingbeautyintheordinary.com" target="_blank"><img src="http://i1089.photobucket.com/albums/i349/FindingBeauty19
/Buttons_%20Heather/Cup12Full.png"
alt="FindingBeautyintheOrdinary.com" width="125"
height="125" /></a>